I guess I'll explain a little about my dog, Zeus.....
We were looking online at the local pounds to find us a new family member (we had recently lost my old dog, Nick, of 12 years). While we were looking we stumbled across a rescue add on a Freecycle website. It was for a German Shepherd who had been rescued at 3 months old. Evidently he had been throw from a moving vehicle down the interstate, wondered out into the woods and stumbled across this families farm. So they took him in and kept him fed for a couple of weeks until they decided to look for him a new owner. We weren't really looking for a German Shepherd but rather a Golden Retriever, but we said "what the heck" and went out to their farm anyways. Seeing as how I live in the middle of Orlando, that was a fun 2 hour drive, haha. So to speed things up, we met the family then we met Zeus. He was immediately attached to me. Followed me around, look my hands generously, and was pretty much the perfect fit. So we ended up compromising and going with the German Shepherd instead of the Golden Retriever.
So fast forward a year to our present day. Everything has been great. If anyone has seen Marley and me.....that's Zeus to the T. He's big, he's got TONS of energy, and even though he's roughly 80lbs of solid muscle he still thinks he's a lap dog. He does however obey a lot better than Marley, haha.
Anyways, I was recently posting some pics of him on another forum, pretty much bragging like we all do. Well one of the members said that he doesn't think he's a German Shepherd. Instead he thinks he's a Belgian Malinois. First, I had never even heard of a Belgian Malinois until that moment, and Second......WHAT!
So I started doing research, looking at pics, comparing descriptions, etc. Every one of them I've read his described him perfectly. The only difference is he's a little heavier than the "average" weight. Other than that, its a perfect description.
So I guess I'm looking for a little more conformation from some fellow dog owners. What's your opinion?
Here's some pics starting with the youngest to the latest...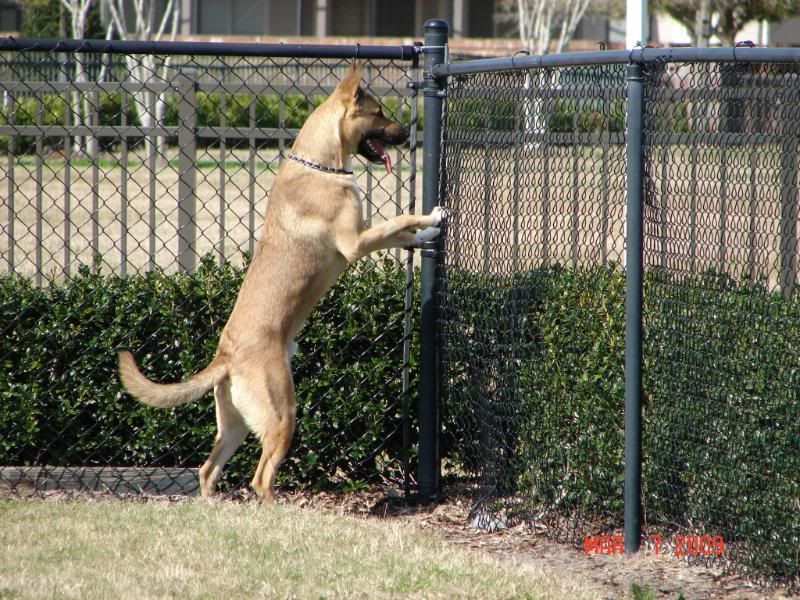 Here's AKC's description of a Belgian Malinois...
Belgian Malinois