Discussion Starter
·
#1
·
So Snow is not even a year old yet, she will be in October. I take her out on walks every day. We usually do 30 min walks sometimes we may have to cut them shorter but we got about 3 times a day sometimes 4 ( i have been taking it easy on walking her alot because honestly i have forgotten the age where it is more safer to take the dogs on longer walks). Then we play in the back yard a lot, running around, fetch, do some basic training, she runs around with Winter as well. Yet she still has the energy of an energizer bunny! I live in a neighbor hood, with quite a few strays, stray "kids" ( people do not watch their kids a lot around here) and people who just let their dogs run of their property toward anyone and anything. I have been trying to think of different things I can do with her to help her get more of that energy out. We do not have any dogs parks, the closest is i think about an hour or more away. She has always been active since I got her toward the beginning of the year, but its just like now she seems to be getting more and more active lol.
I know some breeds are more active then others and I really wish i knew what she was but I don't since she was adopted from a shelter.
Here is a picture of her: ( she is a bit bigger now)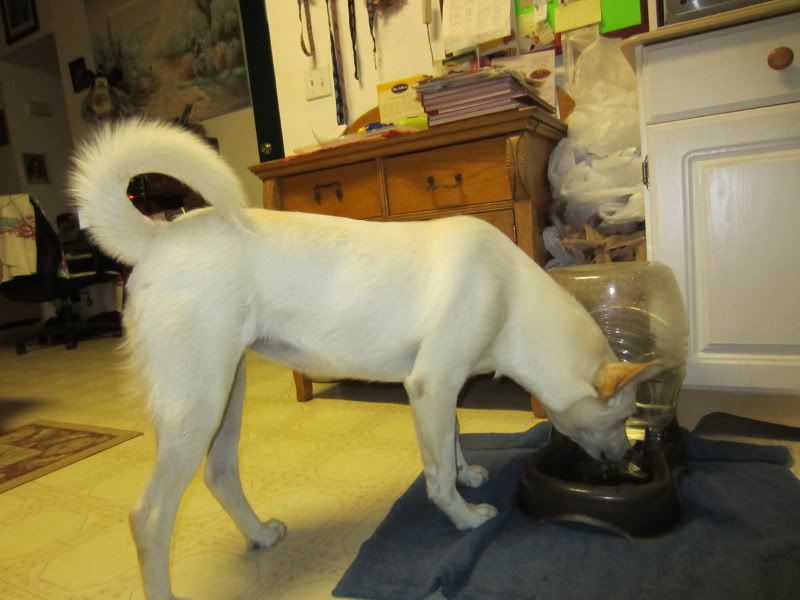 So was hoping to get some suggestions on activities or even books with ideas on things I can do to help burn off some of her energy. Since the walks, massive amounts of play time and training are not cutting it.