Discussion Starter
·
#1
·
I need help asap please - my girlfriend and I rescued a 7 week pomerian/dachhound mix about two weeks ago after his mom had been hit by a car and the dad had attacked and killed the rest of the litter. He was happy when we got him, with only a slight limp occasionally but all puppy's that young have some trouble getting around too straight.
We knew that Bear had been attacked by his dad, so we took him straight to the vetrinarian and the vet took xrays and said that he suspected all it was was that there was a sprained or torn ligament. We started taking super good care of him, (formula, puppy food, etc) and everything was great - the other day when we were at work we left him alone in my room for the very first time (opposed to being in the kennel) and he somehow must have gotten on my bed and jumped off - the bed is just a boxspring & mattress, so no more than 9 inches) ... that night he was yelping a lot, and whining, but that has stopped and now he is limping with his bad leg, but he still wants to play and seems generally happy. The night it happened we raced him to a overnight vet hospital where they did more xrays and gave him some toradol. This vet referred us to a vetrinarian surgeon, who told us the next day that the puppy's hip was fractured and that it would need $3000 surgery and that the surgery would only have a 50/50 change of succeeding because of the fact that the puppy's leg is so small. If the surgery doesn't work, then they'd want another $2200 to do an amputation.
Now we rescued this little guy from an acerage where the dad had killed the rest of the litter, the owners were substance abusers who really didn't care for their pets. Since we got him I've already spent nearly a thousand dollars on him (the first vet visit, then we took him for deworming and paid for a shot package, and since then another $350 at the overnight hospital and another $100 the next day for a "surgery consult")
I need a vet to please look at my puppy's xrays and tell me if what the surgeon is telling me is true. How can the puppy seem to not be in any pain if his leg is so fractured that it needs possible amputation and $6000 in surgery?
We really cannot afford to pay $6000 for a puppy that we just got, but my girlfriend has fallen in love with the little guy so much that it's breaking her heart. if he needs the surgery then I guess there isnt much else i can do except figure out some way to pay for it, i just wanted to get some kind of confirmation from somebody else that the surgeon isn't just trying to rip us off. (it's all so shady, how the overnight place refers us to a surgeon that owns the overnight place as well, etc) I just want to know how the original vetrinarian (who was highly recommended) told us that it definitely wasn't broken and we had nothing to worry about because puppy's bones are soft and have yet to have the growth plates fuse, to another vet telling us that the leg needs $6000 surgery and a 50% chance of amputation when the puppy was doing nothing except playing on a bed that's 9 inches up from a soft carpet.
The picture at the top is of Bear the day after we got him, and the three below this paragraph are all the xrays that the "surgeon" took (although they never even showed me two of these xrays, they only showed me one).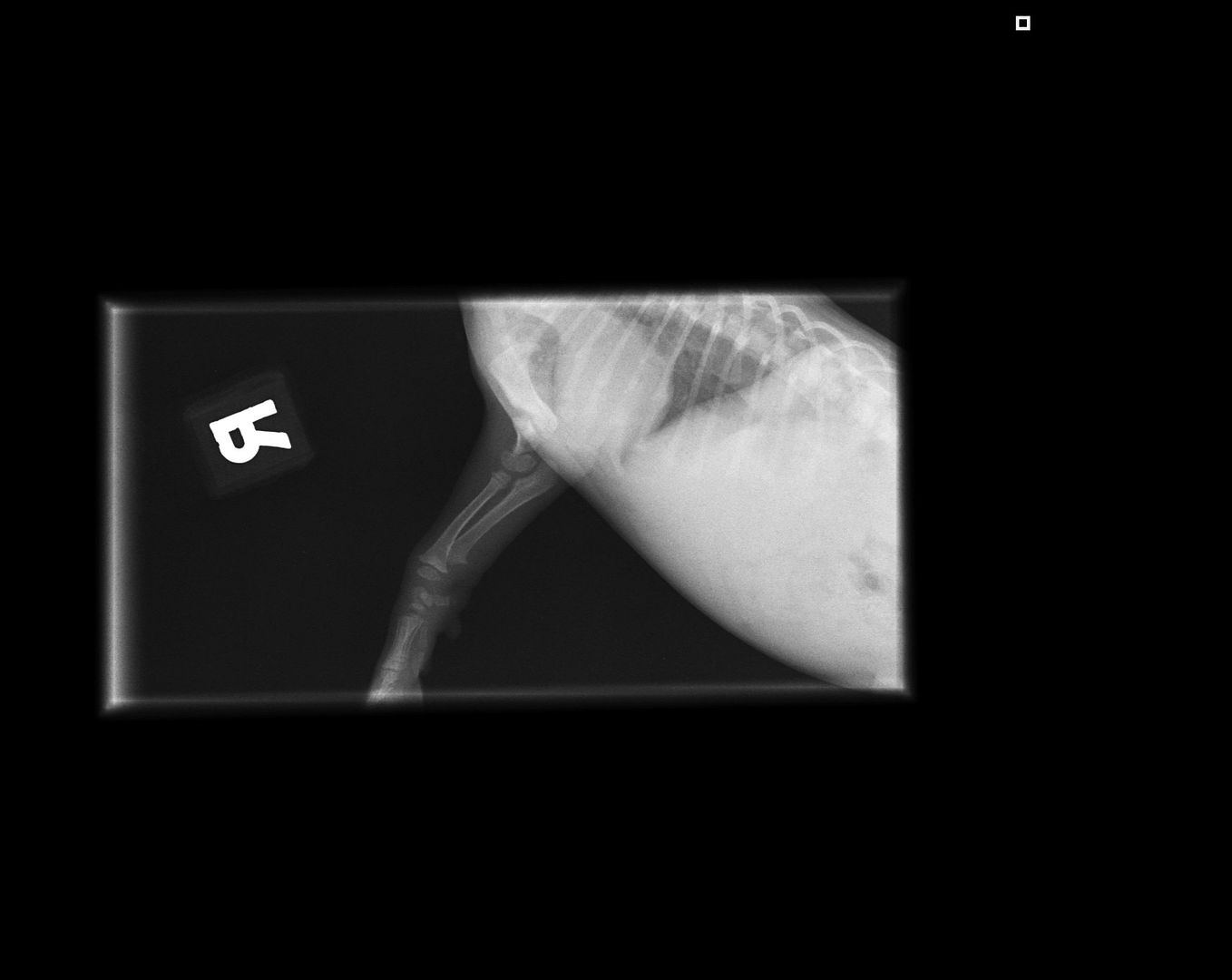 We have our appt with the surgeon tomorrow at 2:40, they'd do the surgery tuesday if we agree to it. He's been on oral toradol since we took him to the overnight place to try and keep him from moving around too much. i really can't let my girlfriends heart get broken by letting this little puppy hurt, but i really can't afford to spend possible $6000. (i'm only 25, she's 21.. she's a temp worker for an agency, and had taken some time off work to take care of the puppy when we first got him). I really cannot afford another consultation fee with another vetrinary clinic (they're all upwards of a hundred more dollarS) to be told just the same thing again.
I can be reached on my email by sending me a private message on here, and if there are any vets or knowledable people who would prefer to talk to my on the phone - if they msg me their phone number i will call them immediately upon receipt.
Thanks, this is really my last resort for trying to find help with this. :<