Hey there everyone,
So my husband and I decided against getting a GSD and wound up getting a rescue dog. We've had her since June 8th and just love her to death. She's a Golden Retriever with a recessive brindle gene. She's pretty nifty.
Anyhoo, she's been sick since I got her. We tried to switch her over from Nutro to Blue Buffalo. This resulted in chronic diarrhea and my vet put her on some medication (Metronidazole 2x daily & imodium 2x daily). Thankfully it seems that is getting better after two weeks on this Hill's I.D. Formula diet (though she definitely lost some weight on this food - which I'm not thrilled about).
That being said, I'm wondering if this is why we're having such a hard time potty training her. I'm home 24/7 and at this point she pretty much goes with me everywhere because of the stomach problems she's been having. When we're in my office, she continues to constantly go into the corner and pee. I catch her in the middle of it constantly, tell her to stop which she does and then put her outside while I clean it up (I was told in training with Otto not to clean it up in front of them).
I'm just really unsure as to how to do this. Otto wasn't an easy potty dog either, he had a lot of issues but they stemmed from SA, she doesn't have SA at all but she has no signs that she needs to pee either, she just goes to the corner and pees.
Not sure how to handle this, figured I'd ask you guys.
I'm just curious as to a better routine I could be doing (it's 10:17, I've taken her out 6 times since 9AM and she's already tried to go once in the corner even though she's peed outside three times).
Also, could it be a UI? I'm not super familiar with female dogs. The only other one I've had was for a month and she was already trained when I got her. But Charlie is licking ... that area ... all the time, especially at night. Haven't noticed anything there, but just trying to think of why she just... goes.
Sorry for the wall of text. Thanks for any help you can provide.
--------------------------
Oh and a side note: From this ID formula, do you think that could cause some kind of nutritional deficiency? She keeps trying to eat rocks and grass.
And she is not nightly crate trained, but is fine in one during the day. At night she sleeps on a cool-a-roo. We've never had her have an accident (potty-wise) at night, even once. She did have a #2 accident last night, but it was clear it was from being sick. So clearly, she can hold it for many hours.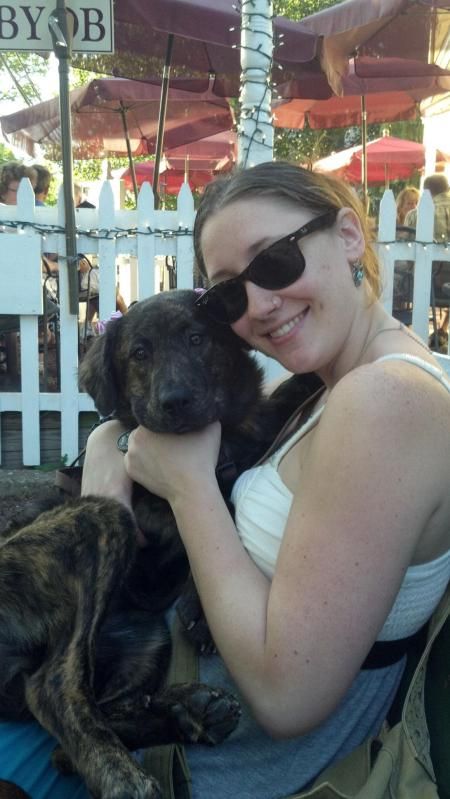 This is Charlie & I.
​